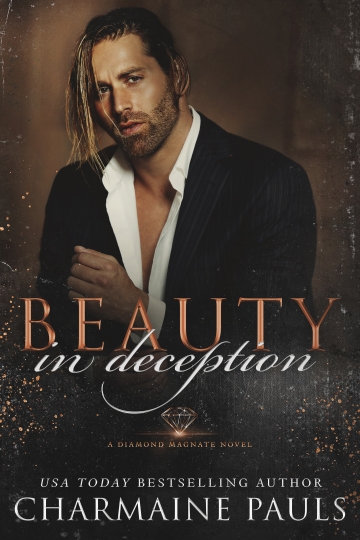 Beauty in Deception (A short standalone Diamond Magnate novel)
A Dark Mafia Kidnapping Romance
My life is governed by three rules.
Don't get caught.
If caught, play the role.
Win time until rescue arrives.
My life depends on playing the role convincingly. I've been trained for that role since the age of fifteen. For ten long years, I've been taught to be someone else, to respond to a different name, and to live in another woman's shadow. Evie Warren is the most coveted mafia princess in the country, and I'm her double. I'm the decoy, her stunt girl, so to speak.
So when I break the first rule, I know it's bad. I know it's going to get worse when the man who carjacked my convoy gives me two options, telling me he hopes I won't choose the second one. And when he calls me Evie, he confirms my worst suspicion. The attack was premeditated.
There can only be two reasons why he wants to take Evie. He wants her either for ransom or for revenge, and Bell Warren, her father, has more enemies than money.
Note: Beauty in Deception is a short standalone novel with a HEA and no cliffhanger. This dark mafia kidnapping romance contains triggers including violence that sensitive readers may find disturbing. Reader discretion is advised. The book is part of the Diamond Magnate Collection. You don't have to read the other books to follow the story.
The Diamond Magnate collection in order:
Standalone Novel
Beauty in the Broken
Diamonds are Forever Trilogy
Diamonds in the Dust (Book 1)
Diamonds in the Rough (Book 2)
Diamonds are Forever (Book 3)
Beauty in the Stolen Trilogy
Stolen Lust (Book 1)
Stolen Life (Book 2)
Stolen Love (Book 3)
Beauty in Imperfection Duology
Imperfect Intentions (Book 1)
Imperfect Affections (Book 2)
"Astounding!" – Buffyanna, Goodreads

"This book deserves 10 stars!" – Pamela Link, Goodreads

"Gritty, chilling, hot as hell and so moving!" – Sheryl Meyers, Goodreads
*Paid link: As an Amazon Associate, this site earns from qualifying purchases.