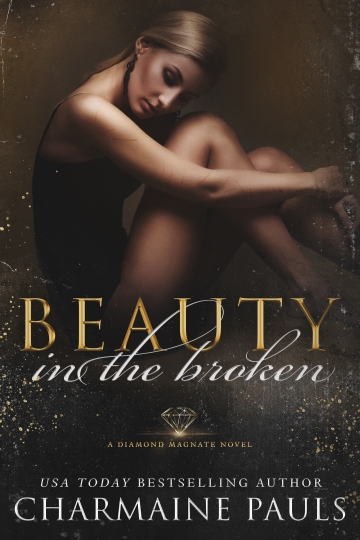 BEAUTY IN THE BROKEN (A standalone Diamond Magnate novel)
A Dark Arranged Marriage Romance
Six years ago, Harold Dalton framed me for theft and sent me to jail to steal my diamond discovery. He gave his daughter to Jack Clarke in exchange for the excavation rights. Today, I'm walking free, and I'm coming for him with a vengeance. Six years of cruelty make beasts out of men. I'm going to take back what he stole from me, and more. I'm not interested in his properties or shares. I don't want his small change. I want his biggest asset. A beauty, mentally unstable, Angelina Dalton-Clarke.
Worth billions, she's the wealthiest widow in the country, and also the craziest. Her self-harming tendencies had Jack declare her incompetent before he put a gun to his head and blew out his brains. Lina isn't allowed to touch a cent of her riches. Her father manages her finances. He has all the signing power. As her husband, that chore will fall to me. But if she thinks I only want her for her money, she's sadly mistaken.
Note: This dark arranged marriage romance contains scenes of violence that sensitive readers may find disturbing. Reader discretion is advised. Beauty in the Broken is a standalone novel with a HEA. The book is part of the Diamond Magnate Collection. You don't have to read the other books in the series to follow this story.
Other books in the Diamond Magnate Collection in order:
Diamonds are Forever Trilogy
Diamonds in the Dust (Book 1)
Diamonds in the Rough (Book 2)
Diamonds are Forever (Book 3)
Beauty in the Stolen Trilogy
Stolen Lust (Book 1)
Stolen Life (Book 2)
Stolen Love (Book 3)
Beauty in Imperfection Duology
Imperfect Intentions (Book 1)
Imperfect Affections (Book 2)
"An epic dark romance with heart-breaking depth and sizzling sensuality!" — Anna Zaires, New York Times Bestselling Author

"Beautiful. Heartbreaking. Intense. Dark. Everything I love in a book."

"A little masterpiece."
SEE THE TRAILER
GET THE BOOK
*Paid link: As an Amazon Associate, this site earns from qualifying purchases.