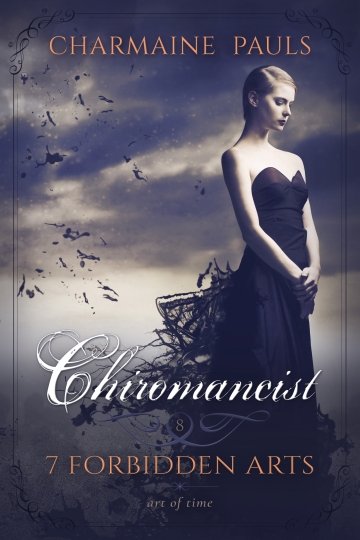 Chiromancist (Second Edition)
Book 8, 7 Forbidden Arts
In a world of dangerous secrets, even the devil can seem like a savior.
Bono
Bono Black isn't part of Cain Jones's taskforce. He's merely their pilot, but the minute he walks into a sex club in Amsterdam, he's no longer an outsider to the war on their beautiful target, Sky Val.
Bono wants her like he's never wanted anyone, and he's a determined man. The only snags are three major obstacles. One, Sky belongs to the most dangerous sex dealer in the Netherlands who'd see her dead before he lets her go. Two, she's undeniably involved in the murders of a senator and president. Three, Cain has ordered her dead. However, time is on Bono's side. Before the team leader slits her throat, they need information on her boss. With the interest Sky has shown in Bono, Cain decides Bono is just the man for the job, and that seduction will be his choice of arms.
Sky
Life has never been good or kind. From where Sky Val is standing, life looks infinitely bad. Her existence is nothing but physical and emotional torture, but one motivation keeps her going. It's a secret she can't give up on.
Bought at the age of sixteen for her forbidden art to manipulate time, Sky's owner constructed the perfect jail to confine her. The invisible chains he put on her are much more effective than a brick-and-mortar prison. She will do anything her owner or his boss demands, even make the handsome, caring Senegalese pilot, Bono Black fall in love with her. Love is, after all, a woman's best weapon when her mission is to steal a man's secrets.
Note: This is the second edition of the book that was originally published in 2017.
The series must be read in order:
Pyromancist (Book 1) – Art of Fire
Aeromancist, The Beginning (Book 2) – Prequel
Aeromancist (Book 3) – Art of Air
Hydromancist (Book 4) – Art of Water
Geomancist (Book 5) – Art of Earth
Necromancist (Book 6) – Art of Spirit
Scapulimancist (Book 7 – Art of Animal)
*Paid link: As an Amazon Associate, this site earns from qualifying purchases.