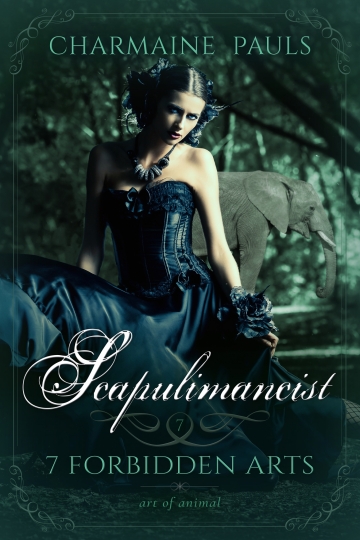 Scapulimancist (SECOND EDITION)
BOOK 7, 7 FORBIDDEN ARTS
A woman is on a mission to save the elephants, and an ex-convict won't part with his land. Who will win the fierce battle of wills and at what price?
Sahara Graham has no idea what she's getting herself into when she uses her forbidden art to protect the near-extinct elephants and their habitat in the Knysna forest, South Africa. From the minute she sets foot in the woodcutters' bar, her life is in danger. The wood smugglers will sooner murder her than let the National Parks Board ranger stand in their way. Woodcutter and ex-convict, Wayne West, holds the key to saving both her and the elephants. But can she trust a man convicted of the cruellest of murders?
Danger comes to town with a green SANParks vest and a tight body. Wayne knows Sahara is all kinds of trouble from the first time he lays eyes on her in the bar. Alone, she doesn't stand a chance. Helping her may cost him not only his job, but also the only thing he has left—his land. That's to say if they make it out alive.
Scapulimancist was originally released in 2017. This is the second edition. The series must be read in order.
The 7 Forbidden Arts series in order:
Pyromancist (Book 1) – Art of Fire
Aeromancist, The Beginning (Book 2) – Prequel
Aeromancist (Book 3) – Art of Air
Hydromancist (Book 4) – Art of Water
Geomancist (Book 5) – Art of Earth
Necromancist (Book 6) – Art of Spirit
"I am absolutely hooked by this series."  – Lauren, Goodreads

"This was a well anticipated and exciting seventh book in this series and boy oh boy was it everything I thought it would be!!!" – Donna Sweeney, Goodreads
*Paid link: As an Amazon Associate, this site earns from qualifying purchases.