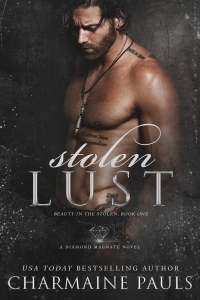 It's live! Stolen Lust (Book 1, Beauty in the Stolen), the first book in my new dark romance trilogy, is now available in e-book, paperback, hardcover, and audiobook. This story will melt your e-reader and your heart! You'll find all the purchase links here.
"Pure dark perfection! Ian and Cas are fire, as is Charmaine's sizzling hot, crisp, gorgeous writing. My favorite read of 2021 so far!" – Anna Zaires, New York Times bestselling author
Stolen Lust (Book 1, Beauty in the Stolen)
A DIAMOND MAGNATE NOVEL
Ian Hart is the most notorious criminal in the country. Like the thief he is, he came in the dark and stole a night of my life.
He left me with souvenirs. Disaster and fear are my new realities. I'll forever look over my shoulder, terrified he'd return, because when he took me, he stole more than just a few hours of my time.
His crime has consequences neither of us could've imagined. If I'm to escape the nightmare of my life, I have to outsmart him. If I'm to survive, I have to outwit every enemy he's turned against me, including Ian himself, the most dangerous and cleverest man I know.
*Stolen Lust is Book 1 of the Beauty in the Stolen trilogy and ends on a cliffhanger. Book 2 will be released on 18 May 2021 and Book 3 on 22 June 2021. This trilogy is part of the Diamond Magnate Collection. You don't have to read the other books to follow the story, but if you like dark romance and you don't mind triggers, I promise you'll love them!
Other books in the Diamond Magnate collection
🧡 Beauty in the Broken (Standalone)
Diamonds are Forever trilogy
🧡 Diamonds in the Dust (Book 1)
🧡 Diamonds in the Rough (Book 2)
🧡 Diamonds are Forever (Book 3)