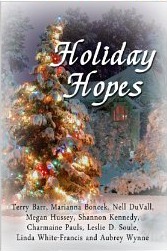 Holiday Hopes
In Holiday Hopes, eight poignant, romantic and quirky stories to enjoy for the holiday, including The Three Gifts of Christmas by Nell Duvall, A Miracle for Christmas by Charmaine Pauls, Deck the Stalls by Shannon Kennedy, Merry Christmas, India Stone by Megan Hussey and Linda White-Francis, The Feast of Yule by Leslie D. Soule, An American Noel by Marianna Boncek, Secret Santa by Terry Barr, and Henry by Aubrey Wynne.
A Miracle for Christmas by Charmaine Pauls
Michael Slanders only wants a steady job and a family of his own, but instead he lives from hand to mouth with his sick mother. Fired a week before Christmas and down on his luck, Mike needs nothing short of a miracle. Sometimes, goodness prevails. Sometimes, magic is made.
*Paid link: As an Amazon Associate, this site earns from qualifying purchases.