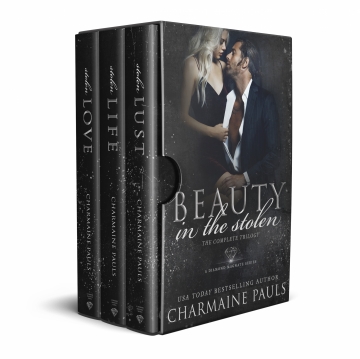 Beauty in the Stolen
The Complete Trilogy
A DARK ROMANCE SERIES
Ian Hart is the most wanted fugitive in the country. His gang is linked to the riskiest and biggest heists in the history of the continent. His identity is an enigma to everyone except me, because the night he robbed the casino, he set his sights on a different target. He took something other than money and gemstones. He took me. He stole my lust and then my life. All I have left is my love. I would've given it freely, but thieves will do what thieves do best.
Note: The Beauty in the Stolen trilogy is part of the Diamond Magnate Collection. You don't have to read the other books to follow the story.
Other books in the Diamond Magnate collection:
Beauty in the Broken (Standalone)
Diamonds are Forever trilogy
Diamonds in the Dust (Book 1)
Diamonds in the Rough (Book 2)
Diamonds are Forever (Book 3)
"Be prepared to go on a crazy, exciting, heartbreaking journey." – Amber White, Goodreads

"This book will wreak havoc on your heart, your peace, your emotions and even on your very soul, leaving you mind-blown into oblivion by its phenomenally flawless writing!" – Ana Elena, Goodreads

"Charmaine Pauls has crafted a love story that is full of angst and emotion since the beginning and this last book in the trilogy is no different." – Kiss Me Books

"I've never experienced a book hangover like it." – Kirsty Diamond, Goodreads
SEE THE TRAILER
GET THE BOOK
*Paid link: As an Amazon Associate, this site earns from qualifying purchases.