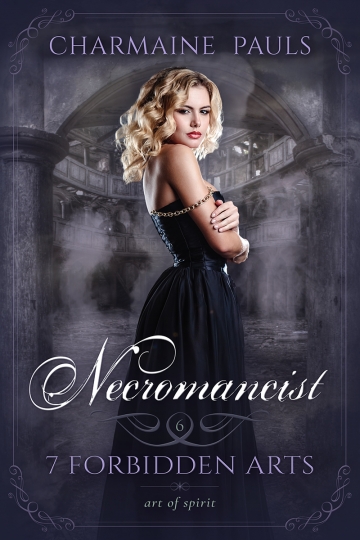 Necromancist (SECOND EDITION)
7 Forbidden Arts (Book 6)
Nine years ago he took everything and left her cold. Now he's back for more.
The poor and troubled young man who took Alice Jones's virginity nine years ago and left her cold is coming to London. Now a rock star, he's to perform in the theatre where Alice works as publicity officer. Ivan Kray, labeled as crazy by the media because of the voices he hears in his head, seems to have an ulterior motive for the appearance. He says he's in England to take back what's his. Alice. Or is his true intention to take revenge for how her wealthy family shunned him?
Ivan Kray has learned there are only two truths in life. Not everybody dies, and only people with money get what they want. After how Alice's daddy threw him out on the street like garbage, he slaved for nine long years to make money, and he's finally going to get what he wants. The same thing as always. Alice Jones. The only niggle is the voices in his head that won't leave him in peace. And as if that isn't enough, now the spirits are threatening him with Alice's life.
Other books in the 7 Forbidden Arts series:
Pyromancist (Book 1) – Art of Fire
Aeromancist, The Beginning (Book 2) – Prequel, Art of Air
Aeromancist (Book 3) – Art of Air
Hydromancist (Book 4) – Art of Water
Geomancist (Book 5) – Art of Earth
Necromancist (Book 6) – Art of Spirit
"This hot, sultry second-chance romance exceeded my expectations, twisted my insides, and had me crying my eyes out." – Buffyanna, Goodreads

"The chemistry between Alice and Ivan projected of the page and was scorching in its intensity." – Beckie Bookworm, Goodreads
*Paid link: As an Amazon Associate, this site earns from qualifying purchases.