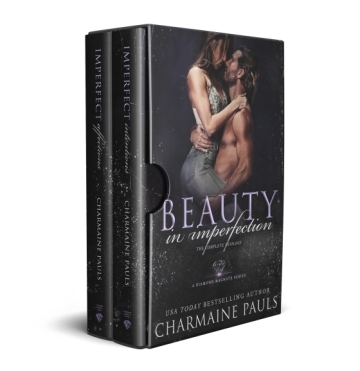 Beauty in Imperfection
The Complete Duology
When Leon tries to force Violet into marriage, it's war for both of them. The battle is hot and dirty, and no one walks away without scars.
I tried hard to remain invisible, particularly here. In my circles, it's dangerous to be noticed, especially by men like Leon Hart. He's different than the other men who work for my stepfather. Quiet. Intense. He's not a brain or a muscle. He's both. And more.
There's a darkness to him that only dangerous men acquire. I should know. I grew up with dangerous men. So when he sets his sights on becoming a partner in the company that rules the IT underworld and I'm the bonus my stepfather throws into the deal, I know I have to fight as dirty as necessary to escape my fate.
Beauty in Imperfection is part of the Diamond Magnate Collection. You don't have to read the other books to follow this story. Other books in the collection include:
Beauty in the Broken (A standalone novel)
Diamonds are Forever (A trilogy)
Beauty in the Stolen (A trilogy)
"Get your tissues ready!" – Buffyanna, Goodreads

"I knew this book might wreck me in the best way, and it did!" – Romance Reading Diva, Goodreads

"Wow!!! Just Wow!!! I could not put this book down once I started. Just amazing." – Jamillah Smith, Goodreads
*Paid link: As an Amazon Associate, this site earns from qualifying purchases.