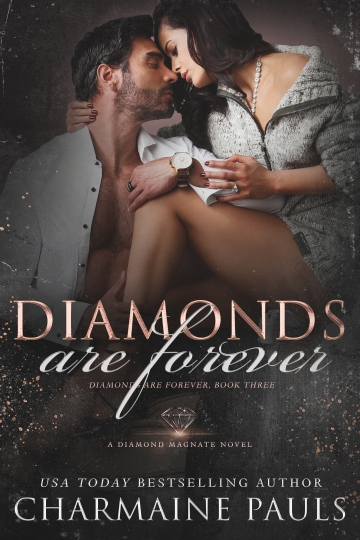 Diamonds are Forever
Book 3, Diamonds are Forever
A Dark Mafia Romance
My love is wasted like gemstones in the dust, walked over by an oblivious shoe. It takes many suffering years and layers of mountains to squeeze carbon into a precious stone. Now that I'm polished and hard like a diamond, he doesn't get to kick me back into the dirt.
Men like him don't love women like me.
They don't love.
Period.
But he made me.
He'll live with me.
Because diamonds are forever.
(Diamonds are Forever is Book 3 of the Diamonds are Forever Trilogy and ends on a cliffhanger.)
Other books in the Diamond Magnate collection:
Beauty in the Broken (Standalone)
Diamonds are Forever trilogy
Diamonds in the Dust (Book 1)
Diamonds in the Rough (Book 2)
Diamonds are Forever (Book 3)
"Unforgettable Dark Romance! Unequivocally Charmaine Pauls' best work. Dark mafia and romantic suspense readers will love this trilogy! There are not enough stars for this biblio gem!" – Book Haven Book Blog

"A well structured, seductive tale of hearts burning with fire of passion to rival the heat in a diamond." – BookBistroBlog
VIEW THE TRAILER
*Paid link: As an Amazon Associate, this site earns from qualifying purchases.