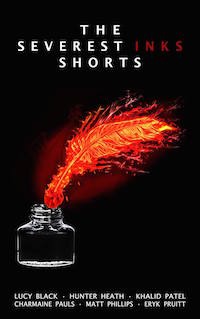 The Severest Inks Shorts
The Severest Inks Shorts collects eight stories from some of the boldest new writers on the scene today. Melding unflinching themes with innovative narratives, these works confront the rawest elements of the human condition through the potent short story form.
This anthology comes loaded with bonus material, including commentaries, special monochrome editions of original cover art and transcripts.
Founded by British writer and graphic artist Khalid Patel, Severest Inks is an independent publishing house based in the UK that seeks to cultivate innovation and originality in the literary scene, with a focus upon narratives that challenge and subvert convention.
The Exchange by Charmaine Pauls
We always want what we don't have.
A group of South African women from different cultural, social and racial backgrounds meet for a monthly book club. When it emerges that a young bookstore owner has flirted with one of the married women, conflicting sentiments on relationships, sex and marriage arise. The catalysts and implications a seemingly simple flirt can have are exposed, from betrayals of friendship to the revelation of raw truths.
Charmaine Pauls' thought-provoking debut for Severest Inks, The Exchange, offers an unglossed view into the fragile dynamics of contemporary relationships, from a wholly female perspective.
*Paid link: As an Amazon Associate, this site earns from qualifying purchases.